Bacterial infections are most commonly treated by the use of β-lactam antibiotics. β-Lactam antibiotics are capable of inhibiting transpeptidases , penicillin-binding proteins (PBPs), involved in cell wall biosynthesis1. Approximately two million people in the United States each year acquire bacterial infections that are resistant to one or more antibiotics and about 23,000 people die due to this resistance1. Resistance to β-lactam antibiotics has become increasingly prevalent since the introduction of antibiotics2. Resistance to β-lactam antibiotics has become increasingly prevalent since the introduction of antibiotics. A common mechanism for β-lactam resistance is the production of β-lactamases, which hydrolyze the β-lactam ring, thus rendering the drugs inactive. Today there are more than 2,800 β-lactamases, which are classified into four groups according to molecular properties and/or amino acid sequences: A, B, C and D 3 . The group A, C, and D β- lactamases use an active site serine for catalysis, while the group B β-lactamases use one or two Zn(II) ions and are called metallo-β-lactamases (MBLs). The most clinically-relevant MBLs are of the B1 subclass and include the following: IMiPenemase (IMP-); New Delhi Metallo-β- lactamase (NDM-); and Verona Integrin-encoded Metallo-β-lactamase (VIM-).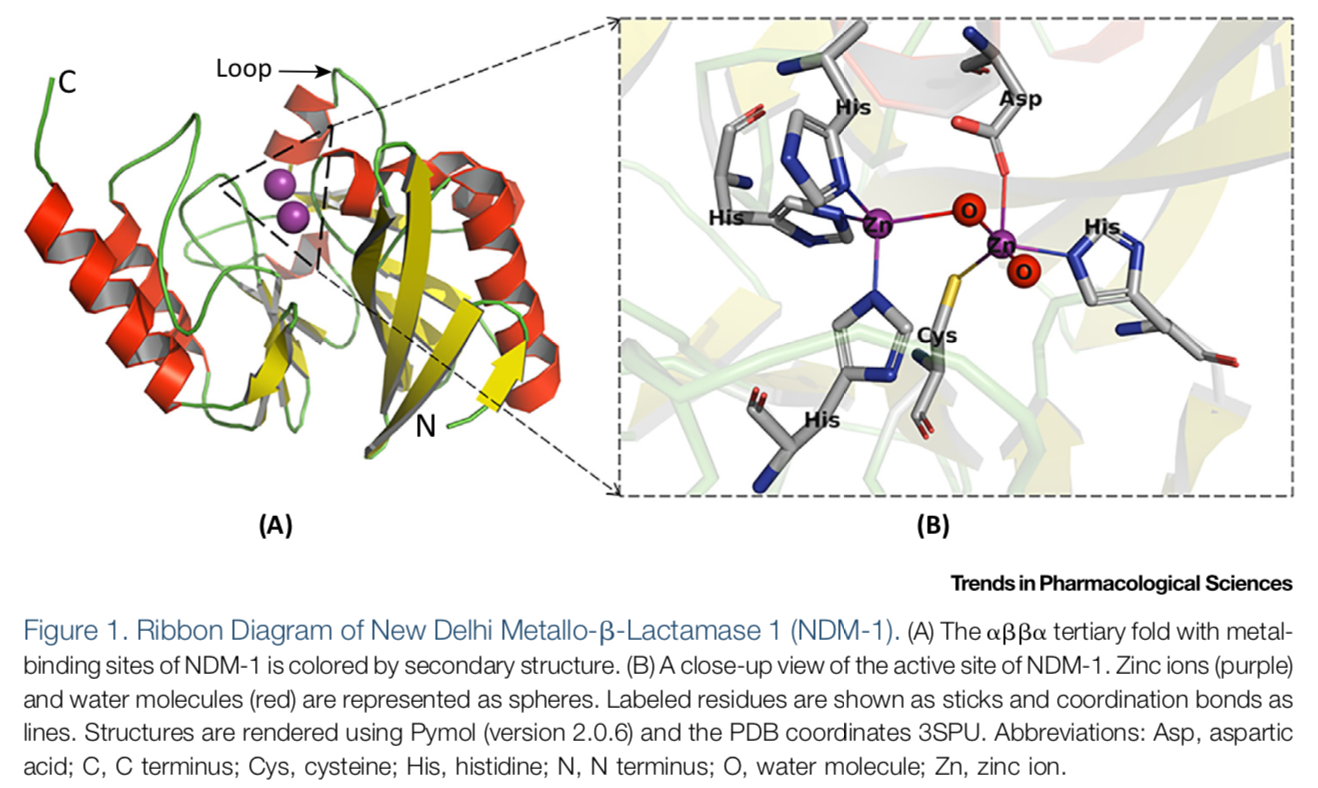 (See permission in related links)
The emergence of new clinical variants of MBLs continues to be an ongoing battle; currently there are 80 clinical variants of IMP; 66 variants of VIM; and 28 variants of NDM 4 . Selective pressures continue to drive the evolution of MBLs with the clinical variants showing improvements in stability, selectivity, and/or kinetics properties. For example, some MBLs have evolved to require only one Zn(II) for full catalytic activity and maintain the ability to hydrolyze carbapenems. Recently, it has also been found that clinical variants of NDM and VIM have evolved to have improved activity at low zinc concentrations 5 6 . In addition, MBL genes are typically encoded on mobile elements, with some MBL-encoding plasmids carrying resistance genes for other classes of antibiotics 7 . This trait increases the difficulty of effective treatment for bacterial infections.
References
1. Neu, H. C., beta-Lactam antibiotics: structural relationships affecting in vitro activity and pharmacologic properties. Rev Infect Dis 1986, 8 Suppl 3, S237-59.
2. CDC, Antibiotic Resistance Threats in the Unitied States. 2019.
3. Tooke, C. L.; Hinchliffe, P.; Bragginton, E. C.; Colenso, C. K.; Hirvonen, V. H. A.; Takebayashi, Y.; Spencer, J., beta-Lactamases and beta-Lactamase Inhibitors in the 21st Century. J Mol Biol 2019, 431 (18), 3472-3500.
4. Naas, T.; Oueslati, S.; Bonnin, R. A.; Dabos, M. L.; Zavala, A.; Dortet, L.; Retailleau, P.; Iorga, B. I., Beta-lactamase database (BLDB) – structure and function. Journal of Enzyme Inhibition and Medicinal Chemistry 2017, 32 (1), 917-919.
5. Cheng, Z.; Thomas, P. W.; Ju, L.; Bergstrom, A.; Mason, K.; Clayton, D.; Miller, C.; Bethel, C. R.; VanPelt, J.; Tierney, D. L.; Page, R. C.; Bonomo, R. A.; Fast, W.; Crowder, M. W., Evolution of New Delhi metallo-beta-lactamase (NDM) in the clinic: Effects of NDM mutations on stability, zinc affinity, and mono-zinc activity. J Biol Chem 2018, 293 (32), 12606-12618.
6. Cheng, Z.; Shurina, B. A.; Bethel, C. R.; Thomas, P. W.; Marshall, S. H.; Thomas, C. A.; Yang, K.; Kimble, R. L.; Montgomery, J. S.; Orischak, M. G.; Miller, C. M.; Tennenbaum, J. L.; Nix, J. C.; Tierney, D. L.; Fast, W.; Bonomo, R. A.; Page, R. C.; Crowder, M. W., A Single Salt Bridge in VIM-20 Increases Protein Stability and Antibiotic Resistance under Low-Zinc Conditions. mBio 2019, 10 (6).
7. Bush, K., Past and Present Perspectives on beta-Lactamases. Antimicrob Agents Chemother 2018, 62 (10).